The popular Northern Fulani cattle herders association, the Miyetti Allah Cattle Breeders' Association of Ntgeria [MACBAN], has called on all its members and Fulani cattle herders to move out of the South saying that Nigeria at the moment is gradually heading for secession.

The Miyetti Allah's call to its members is coming after the Asaba Accord, where all of the Southern region governors met and agreed to place a ban on Open grazing and declared for the restructuring of the country and a change of the allocation formula.
In a letter signed by the Chairman of the Bauchi State Chapter of the Miyetti Allah Cattle Breeders Association, Sadiq Ibrahim Ahmed called President Muhammadu Buhari a figurehead who doesn't know what he is doing and isn't controlling anything nor anybody in the country.
The Miyetti Allah representative further made the call that President Muhammadu Buhari should step aside and a new election is organized for a more competent and focused leader. Who is ready to sacrifice his life for his subject.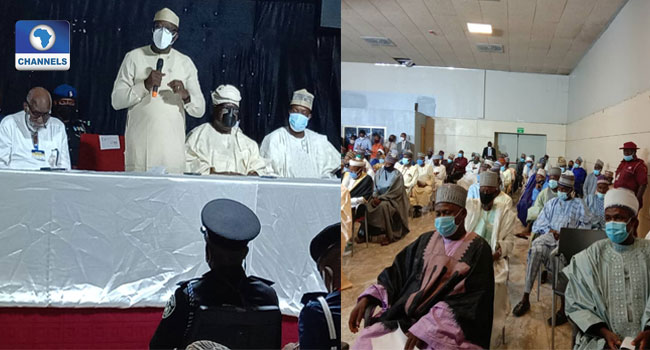 The letter in part reads
"This is a simple calculation. We are heading for secession. The rulers are no longer interested in the people. If some people are banned from open grazing, there is nothing more. Fulani people should move out from there. It is very simple.
Must we transport the cattle there? I have said it before. We have an option of breeding our cattle here (North). We are peace lovers. Let them come and buy from us. It is some people's fault.
THE SOUTHERN GOVERNORS CAN DO THAT. THERE IS NO PROBLEM, LET THEM DO WHAT THEY WANT. IF THE NORTHERN GOVERNORS FEEL LIKE, THEY CAN BAN OPEN GRAZING. WE DON'T CARE.
THE PRESIDENT IS THERE AS A FIGUREHEAD. HE DOESN'T KNOW WHAT HE'S DOING. HE IS NOT CONTROLLING ANYBODY. IN OUR COUNTRY NOW, EVERYONE DOES WHAT HE FEELS LIKE. THE COUNTRY IS ALREADY MOVING APART. WHERE IS THE CENTRAL GOVERNMENT, IF SOME GOVERNORS CAN MEET AND TAKE DECISIONS THAT ARE AGAINST THE CONSTITUTION
WE ALSO CALL ON THE PRESIDENT TO STEP ASIDE OR FOR NIGERIANS TO PUT HEADS TOGETHER AND ELECT A CREDIBLE PRESIDENT IN 2023, A LEADER WITH FOCUS AND COMPETENCE. NIGERIA SHOULD GET A LEADER WITH A GOOD EXAMPLE, WHO IS READY TO SACRIFICE HIS LIFE FOR HIS SUBJECTS."