Nollywood actor and filmmaker Ugezu. J. Ugezu has described the Buhari-APC regime as a colossal disaster compared to the regime of ex-president Goodluck Jonathan.
The actor took to his Instagram account to lament the deteriorating state of affairs occurring in Nigeria including the rapid increase of gun attacks in Nigeria.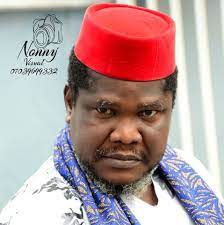 In his post, he highlighted the degeneration in Nigeria such as recklessness, high handedness, and impunity as he agrees that they were not in high proportion to that of Jonathan's regime. But admitted that the Goodluck-led administration also had its lapses.
Ugezu summarized it by admitting that Buhari's regime is a disaster as he shames those who are defending the completely failed government.
In his words;
"The insecurity in Nigeria has dwarfed what we experienced during President Goodluck Jonathan.
Truth is….. President Goodluck and the PDP were not good. But this APC is a colossal disaster.
The injustice, administrative recklessness, high handedness and impunity in the APC Nigeria is of proportion unprecedented in our history.
Shame on anyone still defended a completely failed government".